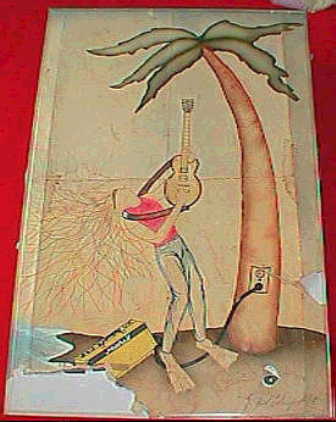 Fighting Temeraire is one of the most impressive pieces of British art in history and was produced by Romanticist JMW Turner. It remains his best known work of all which an impressive title considering the impact of this innovative painter over the direction of European art in the 19th century. It was thanks to expressive paintings like Fighting Temeraire that we now enjoy more modern art movements such as impressionism and expressionism. The National Gallery now holds the best collection of JMW Turner paintings and that is the best place to head for those who still follow his career.
The Fighting Temeraire painting features a war ship on it's last voyage before being broken down into scrap, so in some way this painting could have a sad feeling surrounding it but in fact it is more about a triumphant ship which served in the successful Battle of Trafalgar marching on through the seas whilst captured amongst a stunning seascape scene which enables the artist to show off his exceptional technical talents with regards the multi layered sky and sea sections of the painting.
JMW Turner remains a significant entry in the history of British art and whilst part of the Romanticist art movement, there were significant changes with in the direction of European art which started to move away from sterile realism styles towards all that we have today with the likes of impressionism and then later the various types of expressionism. John Constable alongside Turner played crucial roles also in the greater acceptance of landscape painting when previously it had not been seen as the equal to other genres such as religious based paintings and portraits. It now seems unimaginable the landscape art would not be treated as equal to these other genres because it is so much loved today and easily accessible to all, regardless of their understanding of painting techniques or art history.
We can conclusively accept that Fighting Temeraire was a significant work with in the career of Turner and is a good example of his impressive technical depictions of seascapes as well as offering more information on this famous ship which at the time was on it's final voyage having previously served in the Battle of Trafalgar. The is a great amount of British history found with in this painting and it happily takes centre stage with in the career of this highly innovative artist who brought new ideas into European art and was key to a the greater academic acceptance of the landscape painting genre.