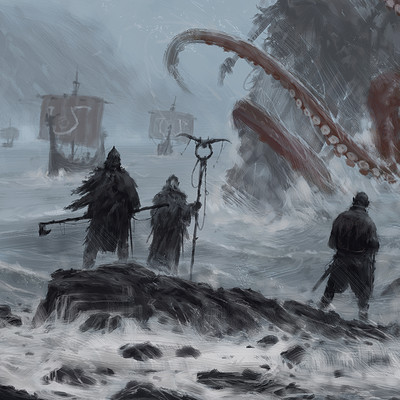 This is a story that could be happening right now in your part of the world…
It is close to the end of October in England as I write this note and it is one of the best autumns (Fall if you prefer) for years. Rather than having massive winds and rains shake and batter leaves from the trees and bushes before they get chance to lose their greenness and show their final flourish of color there has been a great opportunity to see autumn at its true best.
Having said all that there has been plenty of rain during the year and a fair share of showers over the last few days. There has been much more than usual and it has been said that the wet summer is partly responsible for slowing down the leaf loss.
One thing is certain and that is that whether it continues to be wet or dry the leaf fall will continue until the trees are bare, with the remnants strewn about on the ground or blown about in the wind. As an artist the one thing you can rely upon is that it is a wonderful annual introduction to the winter ahead.
If you have had the opportunity to get outside to see colors that seem to make the sun shine even though the clouds above are dark and heavy…
You have seen one of the wonders of nature.
And, if this isn't inspiration enough to produce paintings of country lanes canopied by the reds and golds of autumn, you shouldn't ignore the free lesson in color mixing you are being given.
If you are new to painting and don't feel confident in your drawing skills this is an ideal opportunity to grow your confidence using complimentary and contrasting colors…
Nature is showing you how to bring deep earthy reds alongside dark greens.
Without trying you can see light green yellows contrast with oranges, backed by greys, greens and browns of stock branches and tree trunks.
Also, a moody storm sky can illuminate sunlit tree forms, magnifying the hot brilliance of autumn colors otherwise considered dull during the oncoming drab winter days of fields of ploughed and harrowed earth.
And what about looking to see what happens when the colors of trees are reflected in a river or a lake? A challenge indeed.
The great news for a beginner, if you are brave enough to try, is that you are at liberty to play with color as much as you please, unencumbered by rules of art. It doesn't matter if your painting preference is oils, watercolors, acrylics, inks or pastels…
"If you want to call the results of your abstract art because it isn't a perfect copy, who is to argue?"
And, if you are having fun while you play with the colors of autumn…
"Why would you worry for a moment what might be said?"
Whatever the weather, to have stepped outside and experienced the kind of beauty and warmth of color autumn brings is an artist's privilege. It is equal at least to the soft freshness of spring and heat of summer, leaving only one question…
What lessons in colour will the winter bring?